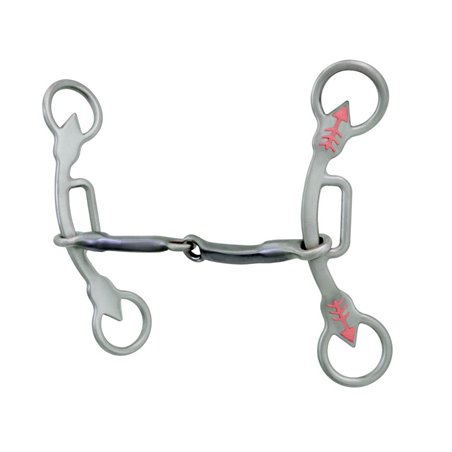  
Emilie Veillette Marley Smooth Gag Bit
Emilie Veillette Marley Smooth Gag Bit
Brand: Metalab


Series: Emilie Veillette Barrel Racing Collection 
Size: 5-1/8″
• Level Three
• Finish: Stainless Steel brushed
• MP: Sweet Iron smooth shaped mouthpiece
• CP: 6″ with Copper arrow trims
We stand behind our products! 1 year warranty on all Schulz Equine products.
Products will be shipped within 2 business days of placing your order.
Returns accepted. Must be clean and unused. Contact us within 15 days of receiving your order to
7" Cheeks • 5 1/2" Mouth • Large Signature Chain & Copper Mouth
The Rolux Chain Competition Bit offers a larger chain link, enhanced by the Signature Copper O-Ring, preferred by most horses. The chain design molds to the shape of any horse's tongue for comfort, and works off of tongue, lip, bar, and curb pressure to help to lighten and resensitize even the heaviest of horses in any riding discipline. The curb adjustment enhances the feel and control of the chain bit and should be adjusted for the desired response.
16 other products in the same category: