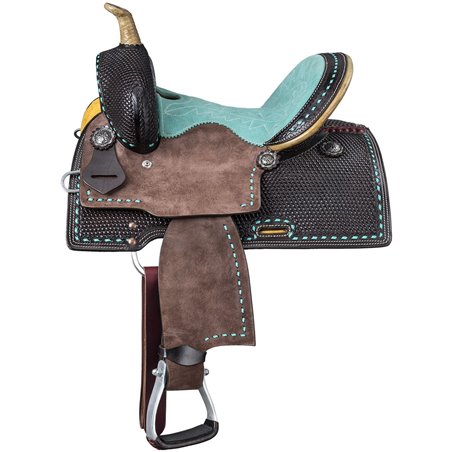  
Bryson Youth Barrel Saddle 10"
Black Friday - FREE SADDLE SHIPPING
Bryson Barrel  Saddle :Features roughout leather jockey and fenders,  accented with tooled basket stamping and turquoise buckstitch and turquoise suede seat  . Horn: 3",, Gullet: 7 ", Cantle: 5", Skirt: 10" Saddle 22" x 18", Rigging: In-skirt Dee, Weight: 20 lbs, Tough1® Quick Change Stirrup Buckles, Angled Aluminum Stirrups.
Made by Royal King/ Tough 1
We stand behind our products! 1 year warranty on all Schulz Equine products.
Products will be shipped within 2 business days of placing your order.
Returns accepted. Must be clean and unused. Contact us within 15 days of receiving your order to
9 other products in the same category: